I had an idea for a long time in creating the International Day of Daoyin Yangsheng Gong.
I consider it necessary and right to perpetuate the bright memory of Grand Master Zhang Guande, the creator, founder and popularizer of this direction.
Now, every year on March 9, my students and I in Russia will celebrate this "International Day of Daoyin Yangsheng Gong" together with everyone who practices and is engaged in this therapeutic direction of Qigong.
I invite all Federations, Associations, Clubs and Centers around the World and all Qigong lovers who practice and practice in the direction of Daoyin Yangsheng Gong to join the celebration of this International Day with us every year on March 9.
At 12:00 p.m. Moscow time on March 9, every year we call on ZOOM. We greet each other with good wishes.
We perform some one complex, for example, DǎOyǐN bǎojiàn gōng No. 1.

After the completion of the complex, we express good wishes to each other and this ends the celebration of this day by ZOOM.

We continue to celebrate each in his own country with his students.

We will have a general recording on ZOOM, but I suggest that everyone record their performance separately and then send a link to YouTube to this video so that it can be posted on our website dedicated to this international day.
Since 1979, I started practicing health-improving Qigong and since 1990, when I got acquainted with Daoyin Yangsheng Gong, I saw the high effectiveness of these health-improving complexes in restoring and powerfully strengthening the health of my patients and students. Having felt the joy of life, they now constantly continue to practice "Daoyin Yangsheng Gong".
Therefore, I suggest that during the year on this site everyone constantly post reviews of those students who had some health problems, but when they started practicing the therapeutic and wellness "Daoyin Yangsheng Gong", these diseases passed or disappeared, or stopped bothering them.
This can be done in the form of a written text, but only in English, or you can make a video on YouTube, where the student tells about himself how and what he was ill, how long he has been doing "Daoyin Yangsheng Gong" and when he began to improve in his health, in his well-being and when he stopped feeling, that he's sick. But you still need a translation of tog
FOR THOSE WHO WANT TO TAKE PART IN THE INTERNATIONAL DAY "DAOYIN YANGSHENG GONG", YOU NEED TO SEND YOUR APPLICATION TO THE FOLLOWING EMAIL: doktor_butrimov@mail.ru 
EVERYONE WHO WILL TAKE PART – THE NATIONAL FLAG OF YOUR COUNTRY AND THE LOGO OF YOUR ORGANIZATION WITH AN INDICATION OF YOUR CITY WILL BE POSTED ON THE WEBSITE FOR YOU.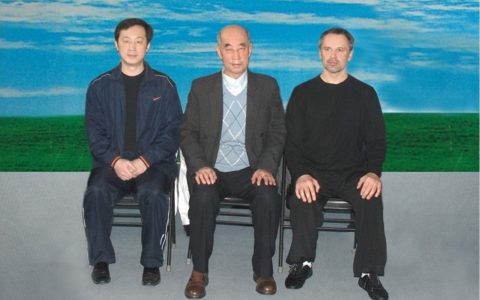 Professor Zhang Guande on the principles in "Daoyin Yangsheng Gong"
My interview with Professor Hu Xiaofei about his path to Daoyin Yangsheng Gong, the formation of the Department and the "Daoyin Yangsheng Gong Center" at Beijing Sports University.
Beijing 2018.
The appeal of Professor Hu Xiaofei to lovers of health-improving Qigong in Russia.
Beijing 2021.
Grandmaster Zhang Guande praised my achievements as outstanding in Daoyin Yangsheng Gong. And he offered to meet more often.
Beijing 2018.
Daoyin Yangsheng Gong is a combination of traditional knowledge with modern medical theory. This system of exercises is characterized by smooth movements, involving breath control, stimulation of key points of acupressure and the meridian system at the moment of twisting the body and conscious flow attention.
The founder, researcher and worldwide popularizer of the Daoyin Yangsheng Gong system is Professor Zhang Guande.
Daoyin yangsheng-gong includes more than 200 sets of exercises aimed at strengthening all organs of the human body, restoring and preserving the energy potential of our body.
In China, the method of medical Qigong (Daoyin) has been officially recognized by the Ministry of Health and is used in hospitals and sanatoriums for the treatment of various diseases.
The "Daoyin Yangsheng Gong" system has spread in more than 60 countries around the world, enabling many people to get rid of diseases and feel the joy of life
Reviews of the therapeutic effect of Daoyin Yangsheng Gong​